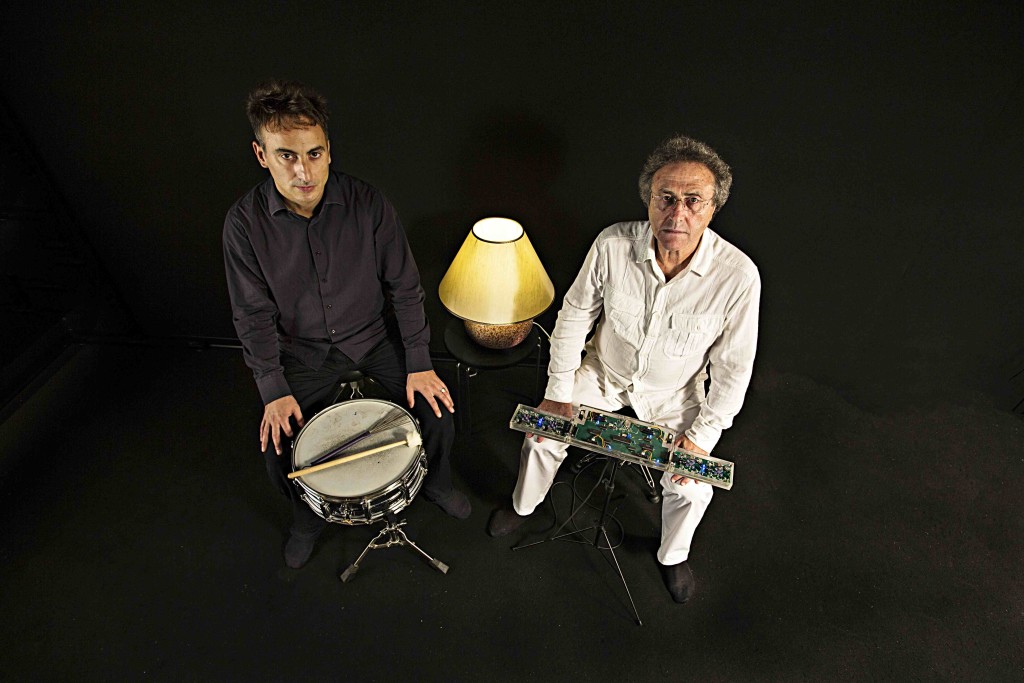 ---
Leonello Tarabella, originally a sax player, began working on his gesture recognition technology for computer music in 1995 through his activity as researcher for the National Council of Research in Italy. During the years he developed two interactive systems to perform electronic music in a new and unconventional way with bare hands (read more).
At first he was used to perform in solo until he felt the need to collaborate with another musician and instrument to give a new shape to his music work. At this point in 2010 he met Alessandro Baris drummer, multi-instrumentalist and composer known for his composing and performing versatility and sensitivity across a variety of genres including post rock, electronic, pop, improvised music, soundtrack and ambient that brought him to play in bands such as american L'Altra and Young Boy, Berliner The Somnambulist, and italian Caboto and Comfort and also a frequent performer of live soundtrack for silent movies.
The duo took the name Collisions from the opposition between the futuristic technology of Tarabella and the primordial sound of Baris' drums which brought their music in a full and fresh mix with such a unique performing impact which has won them interest and appreciation from the audience through their shows and video releases.
After their first dvd release came out in 2012 Collisions continued working on new material to step forward into a more refined and accomplished balance in their music attitude creating a sonic and visionary landscape in constant mutation and enriched by the collaboration with Berliner artist designer Moodif who creates live interactive visuals for their performance.
As they continued to develop their music, 2015 saw the release of the short music movie "Masses and Sea Motions" in collaboration with director Davide Abate and producer Francesca Holsenn and inspired by videos as Godfrey Reggio's "Koyaanisqatsi", Beach House "Forever Still" and Pink Floyd "Live at Pompei".
Performed live in the amazing location named Theatre of Silence in Tuscany Masses And Sea Motions is an evocative journey for heart and mind made of solid and brilliant grooves supporting a texture of synthesizers and dreamy melodies, creating an evocative crescendo from sunset to twilight, a way to offer and share their music with the world in a strongly emotional way.
---